DAR Public Relations, Inc. has the missing pieces
to your Multicultural Marketing Campaign.
Let DAR help you reach ethnic consumers.
Multicultural Marketing Communications Counseling
Target Market Analysis and Strategic Planning
Image & Visibility Campaigns
Brand Awareness
Grass-Roots Promotions
Product & Service Promotions
Advertising Facilitation
Strategic Media Placement
Relationship Marketing
Cause-Related Marketing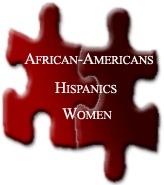 We've got the answers and all the pieces to the puzzle.
Contact us for an immediate consultation.